TILL – Movie guide | movie reviews for christians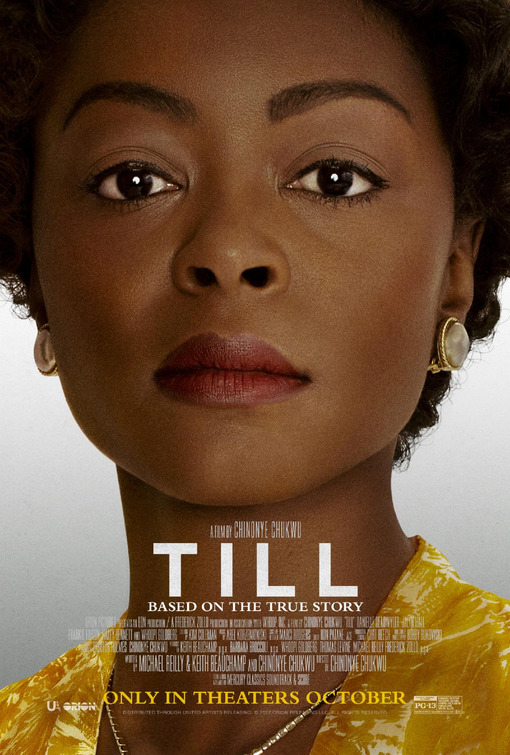 (BBB, CC, RH, L, VV, S, D, M):
Dominant worldview and other worldview content/elements:
A very strong moral worldview on the fight for justice and the fight against racism with manifest Christian content that includes references to God, prayer and the hymn "It Is Well with My Soul" is sung during a church burial, slightly toned down by a revisionist false story that implies that the father of a crime victim is an honest citizen and a brave war hero (this is mostly a case of omission rather than fee)
Coarse language:
Four profanities, one GD profanity, three light profanities and white people use the "n" word multiple times
Violence:
Intense intense violence includes two white men who kidnap a young black teenager at gunpoint in the middle of the night and walk away with him, some gruesome footage of the boy's body and face badly beaten, mutilated and swollen
Sex:
A white woman testifies that the black teenager grabbed her hand and tried to put her arm around his waist (thus implying a slight attempt at sexual assault), the woman grabs a gun and points it at the boy and her cousins ​​after the boy whistled her
Nudity:
NO NUDITY
Alcohol consumption :
No alcohol consumption
Smoking and/or drug use and abuse:
Some smoke but no drugs; and,
Miscellaneous Immorality:
Racism, some possible or probable lies, and some people try to exploit a racist murder for political gain.
Set in 1955, TILL is based on the true story of a black mother in Chicago who attempts to expose and avenge the racism behind the brutal murder of her son, Emmett Till, in Mississippi while Emmett was there- down to visit relatives. Although a bit slow at times, TILL paints a harrowing story of violent racial hatred, with excellent performances, especially by the actors playing Emmett and his mother, but the film whitewashes the relationship between mother and father. 'Emmett, who died in World War II. after the mother divorced him for adultery and for nearly choking her to death.
The film begins with Emmett Till's mother, Mamie, fearing that Emmett will go to Money, Miss. in August 1955 with Emmett's uncle, a part-time preacher named Mose Wright, to visit Emmett's cousins. Emmett is a gregarious and outgoing 14-year-old boy and a stylish dresser. Granny repeatedly warns Emmett about how to act in front of the Mississippi whites, but Emmett somehow dismisses her warnings, assuring her that he will be fine.
One day, Emmett and his cousins ​​visit a small country store run by a white man and his wife. While his cousins ​​are chatting, hanging out, or playing checkers outside, Emmett compliments the woman on her appearance inside the store, then whistles at her as she comes out to follow him. The woman goes to get a gun and the cousins, Emmett and an older man playing checkers leave in a hurry.
Four nights later, the woman's husband and his half-brother, accompanied by two black men who worked for them, visit the house of Emmett's uncle, Mose, and kidnap Emmett at gunpoint. A witness walking near the husband's barn later hears someone being beaten.
Emmett's mother, Mamie, hears about the kidnapping the next day. She finds out that Emmett hasn't gone back to Uncle's. So she contacts the local NAACP to help her get Mississippi authorities to find Emmett. Two days later, Emmett's bloated and battered body is found in the local river. His head is also badly mutilated, with evidence of a gunshot above the right ear.
Grandma has Emmett's body immediately returned to Chicago, where she and her fiancé identify the body. To spark national outrage for her son's brutal murder and to prove to people how serious the murder really was, Grandma decides to hold an open-air funeral and invites the press. She then agrees to testify at the trial of the two men accused of the murder, the store owner and his half-brother. The uncle also agrees to testify at trial, to identify the two men who kidnapped Emmett.
However, with an all-white, all-male jury, will both men stand trial?
TILL is sometimes a bit slow and deliberate. It undermines some of the emotion inherent in his story. Even so, the film tells a harrowing story of violent racial hatred and one woman's heroic courage. The main cast does a great job, especially Jalyn Hall as Emmett and Danielle Deadwyler as Emmett's mother, Mamie.
Of course, it's outrageously wrong that Emmett Till was brutally murdered. [SPOILERS FOLLOW] It is also outrageous that the jury acquitted the two murderers, who later confessed to their crime in a magazine article, for which they were paid.
TILL has a strong moral worldview on the fight for justice, with positive and overt Christian content. At Emmett's funeral, for example, the preacher and choir sing "It Is Well with My Soul." The film also contains other positive references to God and prayer.
Finally, the film tells the main story of Emmett's murder and its aftermath quite accurately. However, it contains some revisionist history. For example, the film mentions that Emmett's father, Louis Till, died in Europe during World War II. However, the father wasn't exactly a hero. First, Emmett's mother, Granny, left the husband when she caught him cheating on her. Then, after she left him, Louis tried to choke her to death. Grandma quickly filed a restraining order against him, but he continued to violate the order. So a judge gave Louis an ultimatum – either go to jail or join the military. In 1945 Louis was convicted and executed, along with another man, for the murder of an Italian woman and the rape of two others. The army, however, never told Mamie and the family about it; they only reported that Luis was killed for "wilful misconduct". After Emmett's killers were acquitted, however, Democratic Senator John Eastland, a notorious segregationist, illegally forced the military to release Louis Till's case. As a result, the acquittal of the killers found new support among the public. For example, the belief that Emmett was a sexual predator just like his father won credence with some people, especially those who believed the story of the killer's wife, who testified at her husband's trial that Emmett had actually accosted her in the country store when no one was around.
The revelation of the father's military record came after the trial, so it's hard to fault this movie for neglecting to tell that story. This is especially true since, over the past 10 years, some people have begun to question the military conviction of Emmett's father and the testimony against him in this case. However, by failing to expose the troubled relationship between Emmett's father and mother, including the father's infidelity, the filmmakers behind TILL whitewash the father's life and falsely add to the film's implication that he was an honest citizen and a brave war hero.
In light of this issue and the gruesome footage of Emmett's corpse in TILL, MOVIEGUIDE® urges extreme caution for older children and other viewers. TILL also contains brief foul language and a few racial epithets.
Now more than ever we are bombarded with darkness in the media, movies and television. Movieguide® has fought back for nearly 40 years, working within Hollywood to propel uplifting and positive content. We are proud to say that we have collaborated with some of the best players in the industry to influence and redeem entertainment for Jesus. Yet the most influential person in Hollywood is you. The viewer.
What you listen to, watch and read has power. Movieguide® wants to give you the resources to reinforce the good and the beautiful. But we cannot do it alone. We need your support.
You can make a difference with as little as $7. It only takes a moment. If you can, consider supporting our ministry with a monthly donation. Thanks.